RECLAMATION OF THE CZCHÓW – ROŻNÓW WATER RESERVOIR IN TĘGOBORZE AND WYTRZYSZCZKA, STAGE III

Under the "Reclamation of the Czchów-Rożnów Water Reservoir" project ETP implemented hydro engineering works consisting of deepening and desludging of the Czchowskie Lake bottom.  The reclamation stopped the ongoing environmental degradation of the lake, and its bacteriological contamination which exceeded the concentration limits due to siltation of bank zones.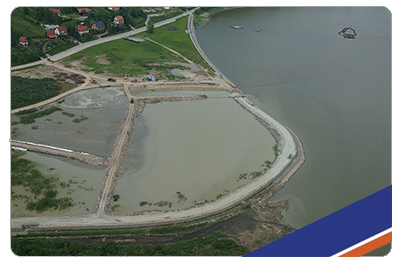 Realisation of the project significantly raised flood protection level and tourist attractiveness of the region, which directly affected the increase of landscape values.
Scope:
works related to the extraction and transport of dredged material on to areas to be infilled, making riprap out of a floating object, making gabion baskets without filling, making waterfront bulk riprap from the bank, covering embankment slopes with humus and sowing them, making concrete slope stairs, a ramp, a collector fi 1000, pavement, a bike lane, a car park, small architecture, court substructures, and a path of reinforced concrete slabs.